So yesterday me and my sister had spent the day in the city together. And its always some madness when we hang .. and I def. realized how much we are alike too with our conversations and random foolish silly-ness.
Our first and Major stop was the
MET
(Metropolitan Museum of Art) , the main reason I went of course was for the Alexander McQueen Exhibit that is only open until July 31st. The first time i went to the MET was when i was in Highschool, and honestly I was never a fan I am still kind of not. It is a beautiful museum with classic and genuine art. I do prefer the MoMa however it is more entertaining more pop than what the MET has to offer but the MoMa would not be open if the MET never existed. History.
However the McQueen Exhibit was BREATH TAKING!
They did not however allow pictures to be taken in the exhibit so these images are from the site..
The quotes, the facts and the history just helped one understand the intense complex mind of such an incredible designer. I already respected him already but this exhibit just gave me the outmost respect for this man and really sadden that Fashion had to lose such a legend and extraordinary factor.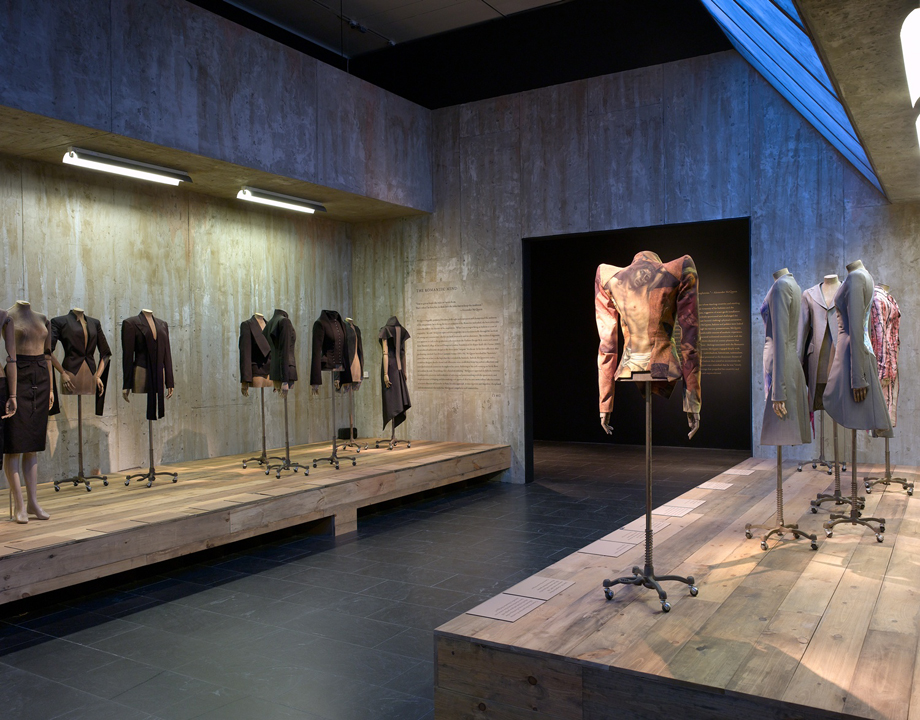 The first collection.
- Romantic Mind
"You've got to know the rules to break them. That's what I'm here for, to demolish the rules but to keep the tradition."
McQueen expressed this originality most fundamentally through his methods of cutting and construction, which were both innovative and revolutionary.He never had a duplicate of one of his pieces because of his training as a tailor, and his want for Fashion to become originality.
"This technical ingenuity was apparent as early as his graduation collection from the Fashion Design MA course at Central Saint Martins College of Art and Design in London. Entitled
Jack the Ripper Stalks His Victims
(1992), it introduced such iconic designs as the three-point "origami" frockcoat. In his first collection after graduating, entitled
Taxi Driver
(autumn/winter 1993–94), McQueen launched his "bumsters," pants that sat so low on the hips that they revealed the buttocks."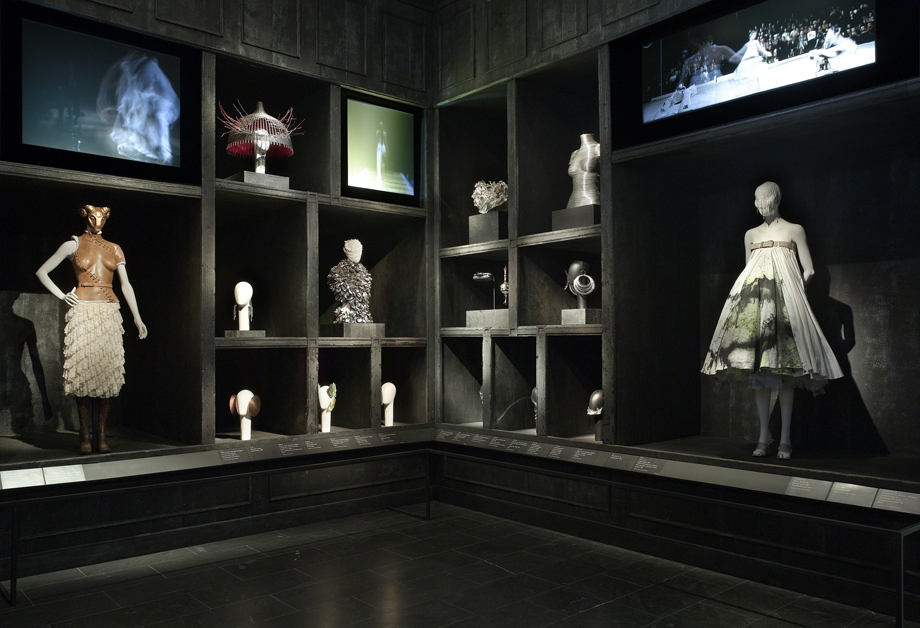 - Romantic Gothic and Cabinet of Curiosities
"People find my things sometimes aggressive. But I don't see it as aggressive. I see it as romantic, dealing with a dark side of personality."
This collection was inspired by Victorian Gothic, This collection combines horror and romance as well as light and dark, victim and aggressor, life and death.
"There's something . . . kind of Edgar Allan Poe, kind of deep and kind of melancholic about my collections," McQueen noted.
In this collection there were videos of his past Fashion Shows . One of the shows was done as a chess layout and game setup. It was inspired by the scene from Harry Potter's Sorcerer's Stone where they played wizard chess. Like live chess but instead with Fashion and Clothes , may the best dressed win! Another show however had one model with a brace connecting her elbows to her thighs, so she had to stay bent and cocked in this weird position while walking down stairs. And one of the other shows had a dress getting spray painted during the show. This part of the exhibit had mainly the exquisite headpieces. One was a jungle, butterflies etc.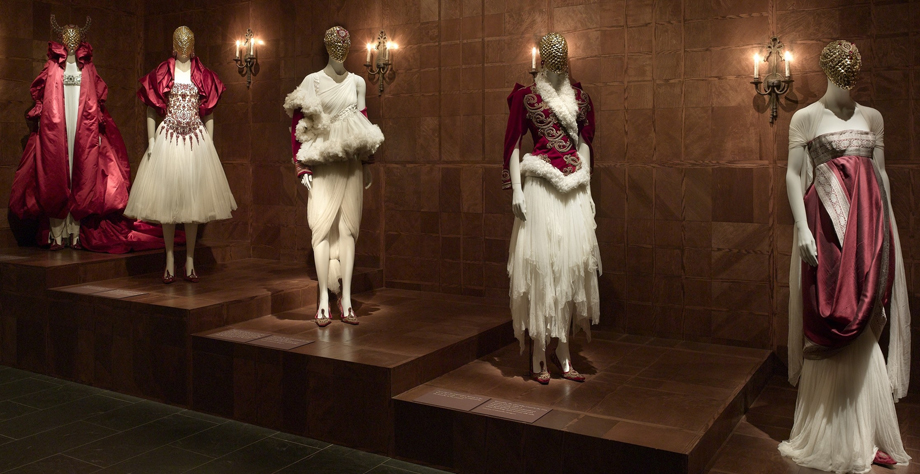 "The reason I'm patriotic about Scotland is because I think it's been dealt a really hard hand. It's marketed the world over as . . . haggis . . . bagpipes. But no one ever puts anything back into it."
Most of his designs and his collections are based off of his Scottish heritage. McQueen also got political in his collections and these collections grasped that aspect of the British genocide that occurred in his country. However he still had his connection to England since he grew up and started his training and his name and inspiration in London.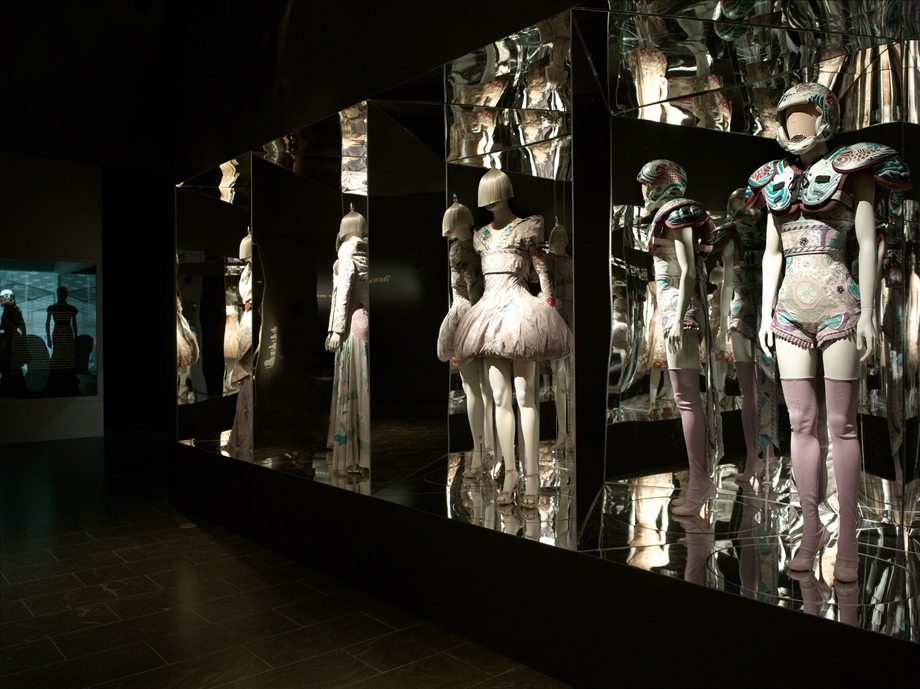 - Romantic Exoticism
"I want to be honest about the world that we live in, and sometimes my political persuasions come through in my work. Fashion can be really racist, looking at the clothes of other cultures as costumes. . . . That's mundane and it's old hat. Let's break down some barriers."
McQueens inspirations went international with the different cultures and countries such as Africa, Turkey and Asia . In this collection you can grasp his attachment to Japan with the kimono. They also show "
My work will be about taking elements of traditional embroidery, filigree, and craftsmanship from countries all over the world. I will explore their crafts, patterns, and materials and interpret them in my own way."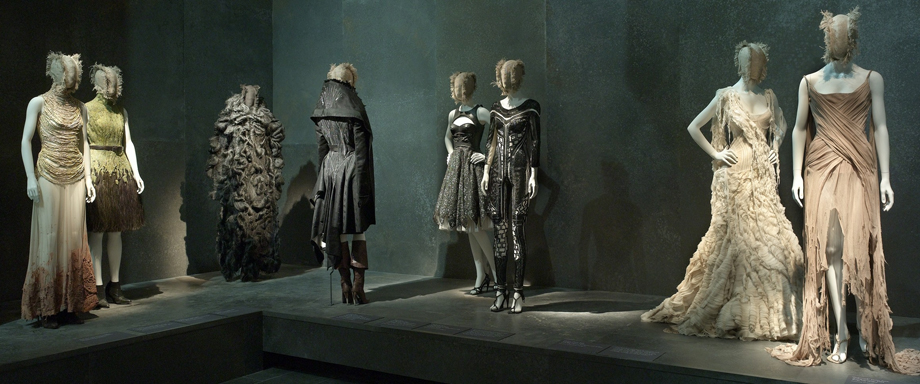 - Romantic Primitivism
"I try to push the silhouette. To change the silhouette is to change the thinking of how we look. What I do is look at ancient African tribes, and the way they dress. The rituals of how they dress. . . . There's a lot of tribalism in the collections."
Mo
dern. Primitive. Civilized. Uncivilized.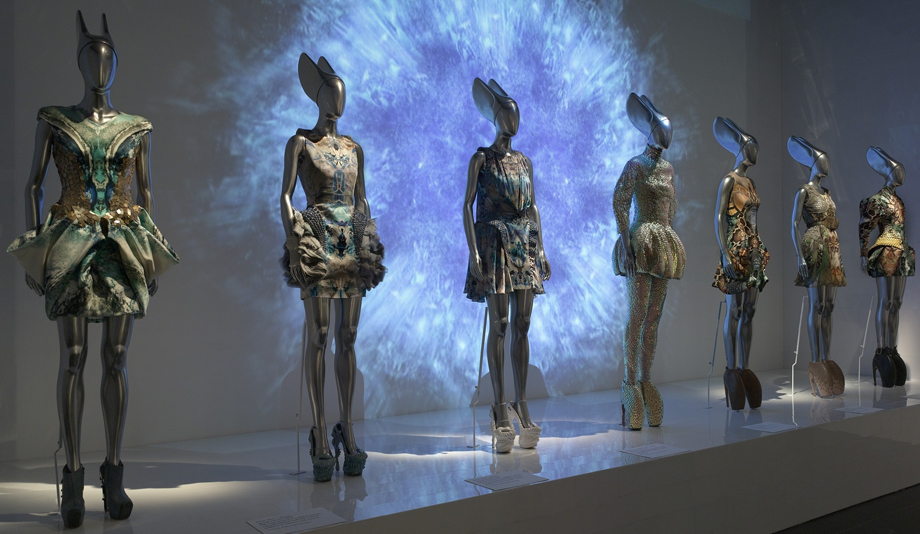 - Romantic Naturalism
"I have always loved the mechanics of nature and to a greater or lesser extent my work is always informed by that."
Nature was another major influence in McQueens life. In his LAST collection of "Platos Atlantis"
Inspired by Charles Darwin's
On the Origin of Species
(1859), it presented a narrative that centered not on the evolution of humankind but on its devolution.
The idea behind it was the prediction of the Ice Cap Melting and the world as we know it being demolished and under water. It was very intense and dramatic.. as the rest of his work.
Throughout the exhibit I was realizing what it would be to be an actual McQueen model. You would seriously have to mentally prepare yourself.. as well as being in his audience. Who knows what your about to receive and witness, you can never even try to predict any expectations.. except for your mind to be challenged and your breath to be taken away. Some of the shows they showcased had a girl 'drowning' , one was the play on illusion with a white dress, and the most powerful one, was the show on Beauty.
The models were not able to see the audience and they were in a room. In this room was a wooden 'box' with mirrors on the outside, inside was a naked female not of usual 'beauty', she was average weight and bare no makeup hair not done nothing. But she had flowers and butterflies surrounding her and breathing out of a gas mask. The walls/mirrors fell and she was revealed. McQueen left you thinking and connecting everything together with Fashion and emotions. He is not just a creative designer he is an extraordinary designer.
It is sad to see depression..unhappiness.. drugs.. and overdose took this man away from Fashion.. True Art , Culture of Fashion..
Our Day did not end at the Met However..
We went on a food hunt and decided to journey to GoodBurger and damn was it worth it!!!
We went to Rainbow City by Friends with You, which is an interactive sculptural installation. The 16,000 square-foot outdoor space is filled with
colorful inflatable artworks
designed to "spread magic, luck, and friendship" as a playful destination for adults and kids alike. The blow-up playground will also host a series of educational programs for children intended to develop creativity in an artistic environment.
The High Line Park was right behind it as well, which we enjoyed a lovely stroll from.
The High Line was built in the 1930s, as part of a massive public-private infrastructure project called the West Side Improvement. It lifted freight traffic 30 feet in the air, removing dangerous trains from the streets of Manhattan's largest industrial district. No trains have run on the High Line since 1980. Friends of the High Line, a community-based non-profit group, formed in 1999 when the historic structure was under threat of demolition. Friends of the High Line works in partnership with the City of New York to preserve and maintain the structure as an elevated public park.
This is what i LOVE about my city, it never gets old, it is never dull or boring..
It is new exciting and fresh.. Always something going on.. ALways something to stumble upon..
Always adventures, Laughs and the meet of new people..
Another typical day in an untypical city..